Just looking at the calendar shows that this year's FIFA World Cup will be different from all the previous matches. Or when you look at the press kit of Südwestrundfunk, which is responsible for World Cup reporting within the ARD. In addition to the introduction, schedule, and team presentation, there is also a "Critical Reporting" item. ARD Program Director Kristin Strobl, together with ZDF Editor-in-Chief Bettina Scheitern, confirm in a joint statement that the outlook is cloudy and, of course, "more than just football will be in sight".
Against the background of violated human rights, severely restricted women's rights and the criminalization of homosexuals, special attention will be paid in the coming weeks to how TV reports, including ARD and ZDF as well as Telekom with its MagentaTV platform, will hardly avoid the dilemma that must be solved by talking About football without neglecting the reality outside the sport.
It is not surprising, therefore, that there have been so many reports and documentaries about the host country of the World Cup, Qatar, in the run-up to the tournament, that it is difficult to see them all. At least some of them should definitely be seen. One of them is called "Qatar – Why Only" and comes from former Nationals player and ARD expert of the day Thomas Hitzelsberger. For his film, which premiered on Monday night, he not only spoke to Manuel Neuer and Ilkay Gundogan, but also to people in Qatar and Nepal, including a woman whose husband died on a World Cup construction site. "I was glad I did it, because I can say: When the World Cup starts, I dealt with it decisively," Hitzelsberger told dpa after the shooting.
No, his film certainly does not skimp on criticism. Time and time again, Thomas Hitzlsperger finds obvious words or categorizes phrases. When Gundogan, who had just been nominated for the World Cup by the national coach, explained that it was "outside my logic" whether it was right or wrong to award the World Cup to Qatar, Hitzelsberger commented from the start: "Charging the responsibility, it's too little for me." At the end of the film, he stares firmly at the Doha skyline. "In the future, the world championship may only be awarded to countries that respect and adhere to human rights," he says. Otherwise, football will continue to collide.


Thomas Hitzlsperger in front of the skyline in Doha.

It might be allowed to ask: Is Hetzelsberger ultimately complicit if he mainly tells stories about moves, goals and mistakes on TV in the next few weeks and less about human rights? Obviously, ZDF journalist Jochen Breyer is also experiencing a split. And the documents he prepared with author Julia Friedrich about the World Cup in Qatar are carefully finished. "Are you really going to watch the World Cup now, or not?" asks Breyer of actor Matthias Brandt, who previously played the village club's football coach in the film. "Well, I was afraid of that question," he replied, shrugging his shoulders. "No idea."
It would of course be paradoxical if ARD and ZDF called on the TV public to boycott the World Cup, after all they've paid a lot of money for broadcast rights and hope to get strong ratings again from the Games shortly before Christmas. Perhaps not without reason, the Süddeutsche Zeitung recently thought of a "double standard". After all, all these documentaries make an important contribution to clarifying the conditions under which the World Cup is being held. Breyer, in particular, has received a lot of attention in the past few days about broadcasting, above all through the statements of former national player and current World Cup ambassador Khaled Salman, who sees being gay as "mental damage" "damage to the mind."
The ZDF documentary, produced by Cologne btf, is worth watching, but also beyond. For example, when sports journalist Sepp Blatter asks former FIFA president about corruption in the FIFA. "No, I didn't look away — but I didn't look specifically," Plater says. In another scene, Jochen Breuer has sweat on his forehead. "It's incredibly hot, everything is running down my spine," the journalist groaned, standing in the Qatar heat – remember the summer, when the World Cup was originally scheduled. It doesn't take many words at this point to understand that the plan to award the World Cup to Qatar was foolish.
Blum's impressive "Stern TV" report
And sometimes it doesn't even take fifteen minutes to come to that judgment. This was proven by the Stern TV report published seven years ago, but it should definitely be seen before the ball rolls in Qatar for the first time in a few days. CDU politician Norbert Blom, who sadly passed away, traveled to Qatar at the age of 80 – not to where everything glitters and glitters, but to the World Cup construction sites and accommodation for workers, thousands of whom are said to have died.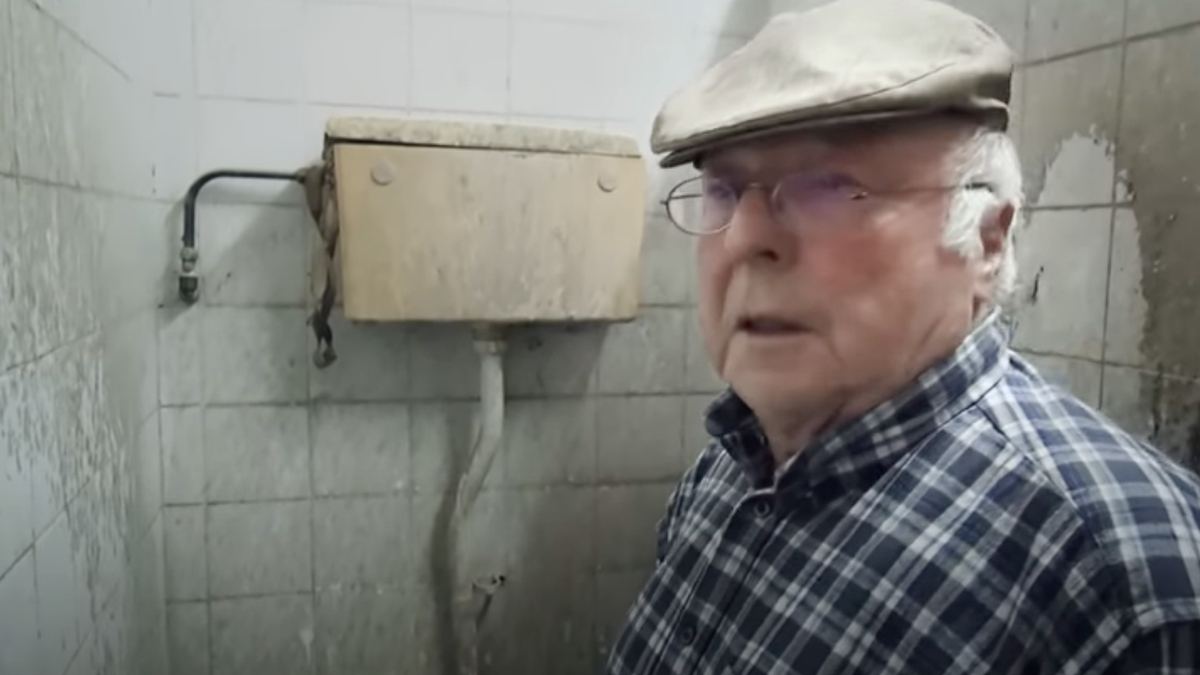 © RTL / Stern TV
Former Minister of Labor and Social Affairs Norbert Blum reported on working conditions in Qatar on Stern TV in 2015.

"Those who cheer in stadiums should remember how stadiums came into being," said the long-serving Minister of Labor and Social Affairs, denouncing the abuses in clear terms. "The workers have nothing. They live here in a very small space. Nothing of their own, no private place. The sanitary conditions are poor!" Regarding the workers' quarters, Bloom says: "A room and shower for the workers and boxes for Mr. Blatter. Now I will ask Mr. Blatter: Was that what he had in mind when he gave Qatar the World Cup?" His conclusion: "I wish Mr. Blatter lived here for 14 days. Then. Perhaps the World Cup will no longer be awarded to countries where such conditions exist. As a punishment, I wish the entire FIFA presidency: six months here!"
After his visit to Qatar, Norbert Blume explained: "Here you see people being degraded. Exploited, again in the old slave society. And with the help of highly respected football. The World Cup of football could not have taken place in this country if it were football." Not wanting to deprive himself of his good reputation." Unfortunately, Norbert Blume will not live to watch the World Cup. But fortunately, his painful words remain in the ear.
More World Cup Documentary Recommendations