"The epidemic is over. No, not everywhere and not for everyone." This is what doctor and TV presenter Eckart von Hirschhausen said Monday evening in his ARD documentary "Hirschhausen and Long COVID. Pandemic of the Untreated." There he tries to shed light on the issues behind Long COVID. His conclusion: the need is great, the study situation is poor.
This critique represents the view of Christian Fock, Find out how our editors treat opinions in texts.
Russia's war of aggression against Ukraine is currently dominating the headlines. Other crises that dominated people's minds until recently seem to have receded from the background. The climate crisis, for example. But also the Corona pandemic, The It seems that the topic of the past three years has lost its presence. But there are also people for whom Corona has not lost any of its dangers. You have been suffering from a long Covid illness.
But what exactly does this mean? How many people are affected? What are the symptoms of covid disease? What treatment options are available? The TV presenter and the doctor asked themselves these and similar questions Eckhart von Hirschhausen He followed them up in the documentary "Hirschhausen and Long COVID – The Untreated Pandemic" and for a reason.
Von Hirschhausen says at the beginning of his documentary, which was published in the ARD Media Library was published in June of this year. He also immediately explains who these people are: doctors who want help, but lack support. But also doctors "who still believe that the long-term Covid illness is a psychological problem." Above all, his film is dedicated to "the hundreds of thousands of patients in Germany who cannot recover after contracting the virus".
No money, no study, no hope
Last winter, a particularly large number of children and young adults were infected. One of them is Olivia. According to von Hirschhausen, she could not get out of bed, stand alone, sit up straight, or carry a glass of water, for months. "I'm now expecting something like a long Covid task force that gets all the money it needs from the federal government," Olivia's mother demands. Just like 30 million euros for the study to be able to approve the long-acting COVID drug BC007.
"The drug study lacks the funds to continue," von Hirschhausen explains, but waiting too long is not a substitute for those affected. Post-COVID syndrome (or COVID colloquially long) is raging in Olivia's body. Typical for this is extreme fatigue even after small efforts and a nervous system disturbance, which explains Olivia's movement limitations. "Sometimes I don't even want to live anymore and I just want it to be over," says the 13-year-old.
"We have had this epidemic for three years now, and an insane amount of valuable time has been wasted because systematic investigations did not start right away: what can we do in the case of acute infection to ensure that the immune system, and that coagulation is not out of play?" explains von Hirschhausen. omissions. It may help to study earlier methods, says von Hirschhausen, but "crazy enough, they still don't exist today."
Rapid treatment is important in the long term of Covid disease
The one who didn't wait here anymore was Beate Jäger. COVID patients from all over Europe come to the doctor from Mühlheim, because Jäger handles hemodialysis and funds the accompanying study before us." Jäger fears that long-time Covid patients "face an irreversible situation at the end."
Asad Khan is one of Jagger's patients. The pulmonologist from Manchester has COVID himself and is the author of the Jäger study. He reports from Hirschhausen in Mülheim about the study data and says: "If patients are treated quickly, their condition improves and they can hope for a cure." Carmen Scheppenbogen, head of the outpatient clinic for immunodeficiency at Berlin's Charité, also criticized the wrong approach: "It's very disappointing to see how much money is being spent on other things." Ten million euros are needed to conduct several clinical studies. This is no comparison to the financial damage caused by the long-term damage.
A simple realization that Scheppenbogen also frankly explains to politicians: "It must come from Mr. Lauterbach To be told: It's a big problem and we have to do it now and I think the desire will be there. But as long as the majority of doctors believe this is not a serious illness or psychosomatic illness, nothing will change."
COVID is long and feeling left alone
Von Hirschhausen asks himself "Why are we so late?" When looking for an answer, von Hirschhausen faces another problem: "In very, very rare cases, a corona vaccination itself can lead to COVID for a long time: post-vaccine syndrome." He meets a patient with this syndrome who is also undergoing blood purification treatment in Mülheim. But so far, the health insurance company has not paid them due to a lack of studies.
Carmen Scheppenbogen has an explanation: "We have to see very clearly that some people can have secondary reactions to any kind of immune activation. Whether it's an infection or a vaccination," Scheppenbogen explains and adds: "Anyone who carries a risk, develops an autoimmune reaction. , then in rare cases something like this can also happen via vaccination. These people would probably have more frequent and more serious problems if they had an infection rather than being vaccinated, which might protect them from this infection."
Von Hirschhausen conducted further research. He meets family physician Anna Brooke, who has a Long COVID illness herself, has tried all possible treatments and given advice to other Long COVID patients. For example, a teacher who reported that her family doctor was so exhausted that he had already given her "instructions in psychiatry." The teacher does not understand why you are really fighting for every life in the intensive care unit, but now let down those "who are not getting better". Martin feels the same way. The young man did not contract COVID but another virus but also suffers from ME/CFS chronic fatigue syndrome. He is also desperate and says, "This is the quietest humanitarian disaster in the world."
"Mr. Lauterbach, this is not enough, it is not enough."
In short: the need is great, the study mode is poor, people go through the diagnosis and thus also through the help network, according to von Hirschhausen's letter. He calls for testing experimental methods that seem promising, and says, "I didn't realize there was such a responsibility to nirvana." Von Hirschhausen continues to seek and visit a neurologist for his own research but cannot identify any organic causes of Long COVID. He confronts him with Anna Brooke, whose neurologist's successful recovery is attributed to the placebo effect. Brooke replied, "I totally disagree."
Martin, the ME/CFS patient, opposes the earlier policy and demands more money for research: "There is an opportunity for us. But the opportunity means: we need money. Mr. Lauterbach, it is not enough, it is not enough." Thus von Hirschhausen visits the mentor Mechanism of Appeal: Karl Lauterbach. At first, von Hirschhausen taps into the basics: "Mr. Minister of Health, do we have an untreated pandemic?" Lauterbach's answer: "Yes, that certainly is."
The Minister of Health also states that this is an organic matter and not a psychosomatic issue. However, a visit to Lauterbach does not give the viewer any additional information, and there is certainly no indication that research money is now pouring in in great fashion. But at least Eckart von Hirschhausen has achieved one thing: drawing attention to long-time COVID patients, to their suffering, to their stories and to the seemingly lacking state of the study.
A quick overview of the information you can find in the von Hirschhausen documentation:
Every ten people infected with the emerging corona virus
Long-term COVID patients experience weakness for at least three months
Severe Olivia symptoms are extremely rare
To date, no long-term treatment for COVID has been approved
According to Asad Khan, there are 100 million patients with long-term COVID-19 worldwide "and the number is increasing"
"In a prolonged COVID, there are likely to be at least three different mechanisms that make people sick":
1. The virus infects the walls of blood vessels, disrupting the function of blood vessels and activating inflammation and clotting, which disrupts blood flow and leads to a lack of oxygen in the brain and muscles.
2. "The virus releases autoantibodies that are directed against its own neurons, for example."
3. Parts of the virus can remain in the body, permanently overstimulating the immune system.
Consequences such as those of Long COVID are not new, they are known from SARS Cov1: ME/CFS or Chronic Fatigue Syndrome, among others. "Half of those infected cannot work," explains von Hirschhausen, saying: "The acute form of the long-term coronavirus is nothing more than ME/CFS."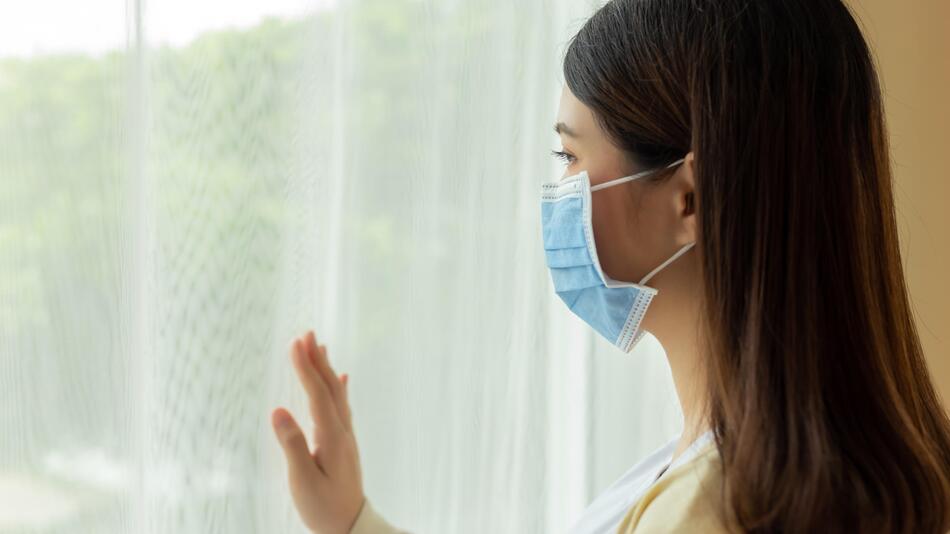 In theory, every infected person is threatened with long-term consequences after contracting the coronavirus. Depending on when some symptoms do not subside, medicine talks about the long and post-COVID period. The best protection is to prevent infection through vaccination.