"It's always easy to swing Sunday speeches about more variety," says UFA CEO Nico Hoffmann. "But making it measurable in order to create a true view of the topic – that's critical, you can only learn from Maria Furtwängler here." Presenting the first results one year after the announcement, the stated goal of the voluntary commitment is to map community diversity in the overall portfolio of UFA programs by the end of 2024, and for this purpose the census serves, among other things, as Hoffman's guide: "The first results give me hope that We achieve our goal by 2024."
For this first report, the on-screen diversity of 45 UFA productions in 2021—both fiction and non-fiction—was measured in four dimensions: gender, people of color, LGBT, and people with disabilities. A total of 3,205 roles and actors were counted — and the results are interesting: there is a lack of diversity in particular in the portrayal of people with disabilities, who make up 9.5 percent of the German population, but only 1.6 percent of the characters or groups portrayed actors in UFA productions at 2021.
"At the UFA, there are no inspectors who care about the exact balance of each production."
But what can be done with knowledge and how to achieve the goals one has set for oneself? "What moves me into the discussion, also with contributing to the debate like last year's Dominik Graf discussion: UFA doesn't have inspectors who care about the delicate balance in every production and they intentionally rewrite scripts. I am convinced that a voluntary commitment like ours will make everyone in the company realize that we want to make a difference. ," said Nico Hoffmann in an interview with the media magazine DWDL.
In the recently intensely discussed dimensions of diversity between genders and people of color, the 2021 UFA programs are still far behind in terms of representation, but they are indeed closer. 45.3 percent of the roles and actors measured were women, while the national average for women is 50.7 percent. But here – as MaLisa has demonstrated many times through its studies – the devil is in the details: for example in the age structure. According to the first UFA report, people of color, who according to MaLisa make up about 10 percent of the population in Germany, are present on screen in 7.6 percent of roles or actors.
Not only the main roles are important
The discrepancy is somewhat greater in the fourth dimension, the LGBTQ+ community – which, according to available statistics, makes up about 11 percent of the population in Germany, but accounts for only 4.6 percent of roles and actors. In order to change this, individual considerations of individual genres are needed, Hoffman says: "When reading scenarios, you can question roles or cast early on whether a character should be male or female. What occupations are attributed to them? The characters or whether people of color or people with an immigrant background should be portrayed is a matter of course and not just if that is the subject of the story."
But not only the blurring of vision for people with disabilities is an important finding of the first report. The measured distinction between leadership roles and supporting roles also provides interesting information and raises more questions, because across all four dimensions of diversity considered, this is more pronounced in leadership roles than in supporting roles, especially among LGBTIQ+. Is this normal or normal? Or the realization that the main roles are thrown in a variety of ways for the argument, but not much has changed in the broad mass of roles and actors? Hoffman vehemently rejects it in an interview with DWDL.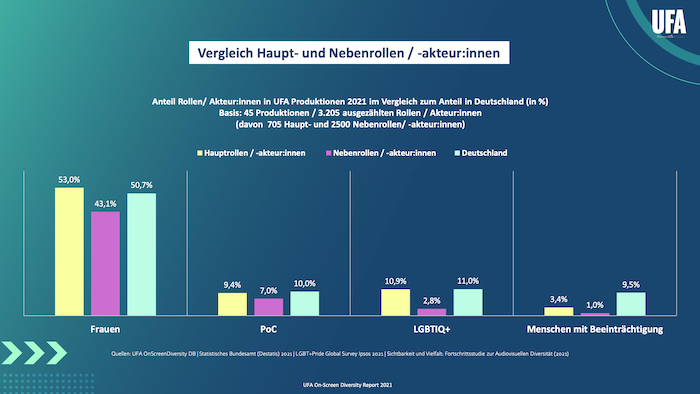 © UFA
He says, "It would be much worse if we were content to achieve diversity in the supporting roles, but continue to cast the main roles very normatively – white, hetero-German, male. Then the choice of supporting roles would be just an excuse. No, the relevant stories are driven by the main characters. And that is where we need to see. But of course there is a very tangible lesson to be learned from these first findings: let us also use supporting roles so that the life portrayed in a series or film corresponds to reality in Germany."
Diversity must be supported by customers
According to Hoffman, diversity on screen only works when it becomes normal and is no longer a problem in itself: "If an actress is a wheelchair physicist or an actress with an Indian immigrant background is a bank manager without that fact being the subject of history. Roles have always been the subject of history. LGBTIQ+ have been tragic characters for decades, and thanks to series like "All You Need" we've come a long way," says Hoffman, citing ARD production "Eldorado KaDeWe" as another positive example for a few months past. Both projects will show that more variety should also be desired by customers.
"Eldorado KaDeWe" is a great example. If one produced "Das Adlon" and the other "Charité", you can almost imagine what attracted me and Oliver Berben about "KaDeWe". Then Julia von Heinz comes along and turns the whole thing on its head, interested in the social image of the time, the role of women, and the sexual optimism of those years. These are very different topics, so convincingly presented that Oliver Perben, ARD and we – all of us – have completely turned the original ideas on its head. Hoffmann admits: "After "Tagesschau" we have so many of them in ARD cost viewers, my mother, for example, couldn't do anything with the series. "But the story was worth telling," and through the media library, the series achieved all the goals we wanted to achieve.
The technical ability to expand the topic and the massive willingness of the customer to provide content are two important framework conditions that can help from the outside in the positive development of statistics in the UFA Report until 2024. However, Hoffman leaves no doubt that it is the UFA's special interest in representation that is important. "Developing awareness of this is the critical step," says the CEO of UFA. "It's not about achieving complete control and parity everywhere and at every point."