Movies and series have shaped our image of the world for decades. But how happy are the cities and regions that are actually portrayed in the picture? And how do those sites that do not have the appropriate infrastructure for film and television production organize filming on site? DWDL.de wondered about the most unexpected hot spot for German TV production: Berchtesgadener Land.
This is not a confirmation by Mayor Franz Rasp, a film and television enthusiast, but a fact when you look at the latest productions made there: in addition to the ZDF series "Lena Lorenz" (ZDF), ARD series "Whatsman bent" and "Die Toten von Salzburg" ( ZDF/ORF2) was also filmed last year for new series "Sisi" (RTL+), Netflix's "Kitz" reboot and the continuation of the Sky series "Der Pass," which begins Friday.


Franz Rasp, CSU Mayor of Berchtesgaden

Mr. Rasp, do you see the productions filmed in Berchtesgaden for yourself?
In fact, I rarely watch TV. But of course I tasted Watzman once or twice. The images conveyed by the ARD series are really beautiful.
Is being a movie location good for the region and for tourism?
It's contradictory sometimes. On the one hand, it is of course useful to broadcast the beautiful decorations from Berchtesgaden on TV. On the other hand, it is sometimes annoying to residents and visitors when shooting in the city, roads are closed or stores are inaccessible. But so far the vulnerabilities have always remained within limits.
Berchtesgaden also has a point of contact for movie location information. What is the procedure?
Production industry inquiries and support for film and television makers are settled with our Tourism Consortium. The team there decides if the projects suit us, they mediate and take care of the production teams. At Berchtesgaden Town Hall we only receive pre-filtered inquiries specifically requesting relevant photographic permits. Society is asked when it comes to making areas available, prohibiting them to photograph and issuing traffic orders.
Where's the cap – were you ever banned from taking pictures?
Usually what the Tourism Association proposes to us as a municipality is approved. If it is proportional to time and place, then there is nothing to be said against production. However, it can happen that places are already taken. Berchtesgaden National Park, as a nature reserve, is a taboo for photography.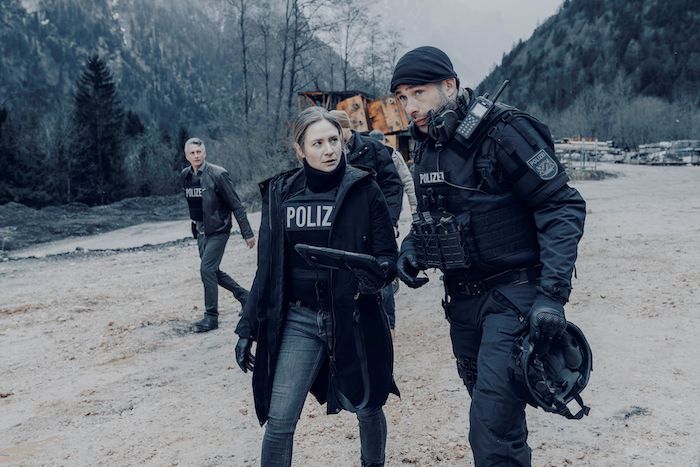 © Sky / W&B / epo-film / Hendrik Heiden
The second season of "Der Bass" was filmed in and around Berchtesgaden, among other places.

Berchtesgaden's film and television background has changed, from the Heimatfilm atmosphere of the 1970s to Hollywood productions in the late 1980s to soap operas and thrillers. Does a tourist postcard nerd bother?
I think viewers are very good at distinguishing fact from fiction. Villa Baer also plays a role with only the outside view in the "Watzman Investigation", but the interior of our police station was never shot. And I haven't had a request yet on whether our crime stats are worse because we have so many murders here in the area (laughs).
"It's part of the entertainment that things can be shortened and served up with a little differentiation."
Many works of art play with clichés, with stubborn mountain people, sin on mountain pastures and corrupt mayors. What is it like when your home country is portrayed in a completely different way than the locals see it?
Now that's part fiction. Basically I have no problem with that. It's part of the entertainment that things can be shortened and served with a little differentiation. Of course, on TV, the mayor of one of the upper Bavarian cities is the priest's best friend and has a lot in common with the teacher and also Bazi*. Yes me*. I get the impression that TV and movies deal more deeply and realistically with the life and people of the region.
Rosenheim has created a city tour based on the ZDF "Die Rosenheim Cops" series. For Berchtesgaden, there are at least tips on the website about which filming locations to visit. Could a guided tour be conceivable here too?
Whether it's "Watzmann Specific" or "Lena Lorenz", to name a few, the two main ongoing productions of the ARD and ZDF: essentially proper rounds can be visualized. We just have to carefully evaluate the beautiful areas that we can guide people to. It is always a matter of guiding the visitor. So we think carefully about which places we also want to serve and which ones we don't.
Speaking of visitor tips: Social media influencers have exaggerated this by advertising the waterfall at Königssee, as a result of which access to the popular pool has been banned since the summer. How do the authorities deal with the media working on the beauty of the Berchtesgaden basin?
Here it is important to clearly distinguish between TV images and posts on social media. When it comes to film and television, we have in our hands whether to shoot select venues as filming locations. It is also not easy to find some places after that because notable points of reference such as churches are missing in the picture. However, for "insider advice" from the nature reserve, which is ultimately destroying what is actually needed, the National Park Department has now set up its own social media team to proactively address this. Relevant media is scanned there for information that should not remain uncommented. However, outside the confines of our national park, I am not aware of such excesses on the social media of Berchtesgaden sightings.
May God bless you for talking.
(*The interview was conducted in dialect. We're talking about the priest's best "friend" and the fact that the mayor is often portrayed as a "villain" on TV. "That's just the way it is," comments Franz Rasp.)