With 89,600 births, more children were born in Switzerland last year. Women give birth later: nearly three-quarters are over the age of 30.
According to the Federal Statistics Office, the number of marriages and divorces has increased. On the other hand, the number of registered and dissolved partnerships decreased in 2021. In addition, there were fewer deaths than in 2020. This is evidenced by the final figures of natural population movements from the Federal Statistical Office (FSO) for 2021, which were published Thursday.
Most women give birth in their thirties
in 71 percent of the births were to mothers between the ages of 30 and 40, Fabian Rossa of the FSO's Demography and Migration division also told Keystone-SDA news agency. The second and subsequent births increased more than the first.
Most children are born to women over the age of 30.Photo: shutterstock
With 89,600 live births, the number increased by 3,700, or 4.3 percent, compared to 2020. Among women aged 30 and over, the number of births increased by 6.6 percent. The average number of children per woman increased from 1.46 in 2020 to 1.52 in 2021.
64,000 live births occurred within marriage, which is an increase of 3.1 percent over the previous year. With 25,500 live births, the number of children born out of wedlock increased by 7.5 percent compared to the previous year. On average, 3 out of 10 children are born out of wedlock.
The death toll is still high
Although not as many deaths were recorded in 2021 as in 2020, there are still many more deaths than in 2019 (plus 3,400 or more than 5.0 per cent). In 2021, 71,200 people died in Switzerland, 5,000 or 6.6 percent less than the previous year. However, in January 2021, nearly 1,700 people died compared to the previous year, This corresponds to an increase of 28 percent.
The average life expectancy for men last year was 81.6 years and for women 85.6 years.
Marriage over the age of thirty
In 2021, 36,400 marriages were held, up 3.6 percent from the previous year, but 6.6 percent less than in 2019. Of these, 26,800 were first-time marriages between two unmarried people. 9,600 couples dared to walk in front of the altar for the second time. The average age of men at first marriage was unchanged from 2020 at 32.2 years, and for women it increased slightly from 30.2 years to 30.3 years.
Compared to the previous year, both first marriage and marriage again increased, compared to 2019, however, both recorded a decrease.
More and more divorce cases
The number of divorce cases increased significantly. In 2021, 17,200 divorces were announced, up 5.9 percent from the previous year. The number of divorces rose especially sharply in the first half of 2021. Compared to the first half of 2020, 1,500 more couples were divorced, which is an increase of 18.7 percent.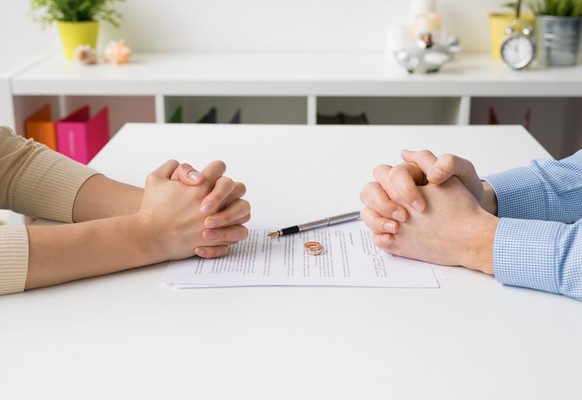 In the first half of 2021, a large number of spouses broke up. Photo: shutterstock
Among spouses married for a short period (0 to 4 years) the number of divorces decreased compared to 2020, In contrast, it increased in married people for a longer period. The most common increase in divorce cases was among couples between the ages of 10 and 14. Compared to the previous year, divorces there increased by 12 percent.
In 2020, marriage lasted an average of 15.6 years, and in the following year this increased slightly to 15.7 years.
If the trends observed in 2021 continue, it can be assumed that two out of five marriages will one day end in divorce – this equates to 41.9 percent.
Fewer registered partnerships
The number of registered partnerships has decreased since 2018. 582 partnerships were registered in 2021, 69 fewer than in 2020 (minus 10.6 percent). With 361 pairs of men compared to 221 pairs of women, men still frequently decide to take this step.
With the revised adoption law is Same-sex couples are allowed to adopt their partners' children since January 1, 2018. For the first time, the FSO is now publishing corresponding data for the whole of Switzerland. Last year, 86 children were adopted in this way into a same-sex partnership. (saw/sda)
The world as children see it – 31 quotes
2-year-old girl impresses the TikTok community with her reading skills
This may also interest you:
Since the reality was so beautiful and thus kind of boring, we prefer to indulge in some spooky fantasy here.
It happened the way it was. Only one survived.