Message from 06/16/2022

By Klaus Kohnen
At a Knowledge Rifle Club party, those responsible for the gun, Colonel Karl-Heinz Hein, came up with some ideas. "More than 150 years: proud of the past – committed to the future!" In keeping with the entire festival's motto, the party was punctuated with retrospective events, but also looked to the future.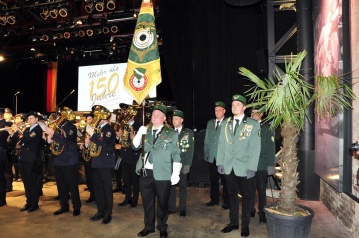 knowledge. The KulturWerk in Wissen was festively decorated for the occasion. When are you celebrating his 150th birthday? In keeping with the motto, the organizers drew the line from the past, which one looks at with pride, to the future, which will be mastered with commitment, right from the decoration. Many guests could not wait to see what awaited them. The discussions in the lobby were also related to the logo.
In addition to the many members of the Venice Club, representatives of politics, municipalities and businessmen were also welcomed. Among them were representatives of the state parliament Sabine Batzing Lichtenthler and Matthias Rupper. District Manager Dr. Peter Enders was also among the guests. After his speech, the district administrator was able to introduce the coat of arms that he had guarded for the past two years. The event was attended by delegations from friendly clubs, including Malteser representatives, and knowledge firefighters, represented by Fire Chief Stefan Diebenbruck and Knowledge Fire Chief David Mosal. Likewise, representatives of the Rhine Shooting Federation and the Paralympic Sports Association, which also represented the state sports federation. All inquisitors agreed that the Knowledge Gun Club combined social and sporting activities, particularly through the Air Rifle Bundesliga and youth work.
From the past to the modern
In the course of the programme, according to the organizers, video sequences should be used to look at past festivals. With an impressive laser show, the association with "modernity" was struck. The laser show was supported by stellar trumpeter Lutz Kniep, who had the audience swing and sing beforehand. Temperance was in the experienced hands of Joseph "Seeb" Baker. The city's knowledge troupe and fire brigade were responsible for the musical accompaniment. Conducted by Kapellmeister Christoph Becker and the second director of the orchestra, Tobias Stahl, the musicians delighted the audience. At the end, Joel Schmidt, leader of the band Hanes, sang the anthem "Wessen, bleve so wee de Beast" with Christoph Becker. The singers were musically supported by the orchestra and some members of the band. The evening ended with a social gathering and many conversations.
Pictures:
fkknowledge150622a
fkknowledge150622b
fkwissen150622d Karl-Heinz Hein welcomed visitors
fkwissen150622e shepherd d. Andreas Ringen underlined the impact of such a strong association having an impact outside the region
fkwissen150622f Trumpeter Lutz Kniep made the audience sing and swing …
fkwissen150622g … also shared as the guest of honor, Sabine Patzing-Lichtentler (right)
fkwissen150622h Jokel Schmidt, captain of Hanes, sang the city anthem
fkknowledge150622i
fkknowledge150622j
---
Local: knowledge and surroundings
Become a fan of the AK-Kurier.de local knowledge edition on Facebook now!

More photos (Click on one of the pictures for a larger view):