Brotherhood wasn't my first Assassin's Creed game, but it was the first that really fascinated me with its history and world. Of course I also found Florence and Venice really impressive in the predecessor, but when I rode through virtual Rome in the 16th century with Ezio for the first time, I knew it right away: I really want to go there in real life!
And that's exactly what I finally did, even if it took twelve years. But with my vacation in Rome in May, I've now fulfilled a dream. But even if the AC Brotherhood was the original for that, I didn't want to worry about video games during the days there. Nothing came of it though, upon arrival my memories seemed so activated that I saw things like climbing all over the buildings and Ezio jumping off towers using Assassin's Leap (Leap of Faith).
The Muslim Brotherhood is chasing me like a ghost
When Brotherhood came out in 2010, I spent countless hours playing the game. Away from the story, every feather has been collected, every glyph deciphered, and every tomb explored. I would not have imagined that after so many years it would be possible to confuse myself with the strong connection between Rome and the AC Brotherhood which developed as a result.
Because when I got to Rome it didn't take long and I couldn't help but find places in every building where Ezio could theoretically climb. I also constantly noticed the turrets we retrieved from Borgia in the game. And when I was walking the streets and hearing snippets of Italian, I immediately felt like I was in the open world, except that there were non-playable characters instead of real people.
But it did not stop at these real connections. I also played a lot of scenes from the game in my head: I automatically imagined Ezio lighting up the towers and jumping down like in the game. And scenes like the Colosseum connected my brain directly to the intelligent killer. I thought how I found out all these places with him in the game. Yes, even with big crowds, I kept thinking about the immersion job with her specific voice and white veil around people. Wherever I looked, I saw the Assassin's Creed Brotherhood.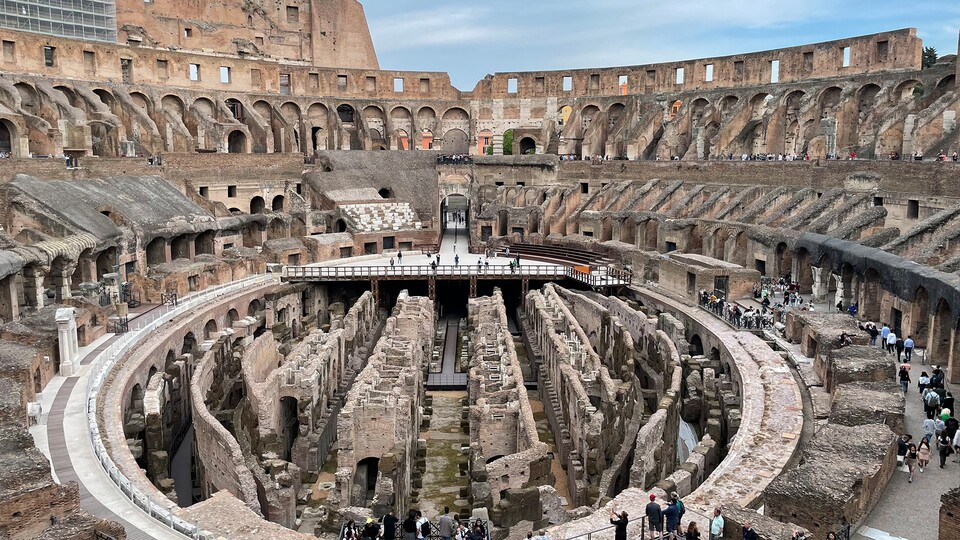 So many brothers of good
At first I didn't find all of this funny because it distracted me from reality. After all, I was there to see the real Rome and enjoy the holiday with friends. Instead, there was a game in my head.
Somehow it had something of a spill effect. In the world of Assassin's Creed, it describes the intermingling of ancestral memories in oneself (or gaining ancestral abilities) when one has been in a state of hostility for a long time. Ultimately, this may make it difficult for you to separate your memories from those of others.
In my case, playing through the Brotherhood arguably shaped my image of Rome to the point that I couldn't help but constantly remember the gameplay scenes while I was there. I still get flashbacks like this one way or the other, like when I see a lowered car trailer somewhere and it reminds me of GTA stunts, but it's never been this strong.
In the trailer, you can take a closer look at the damaged Rome from the game: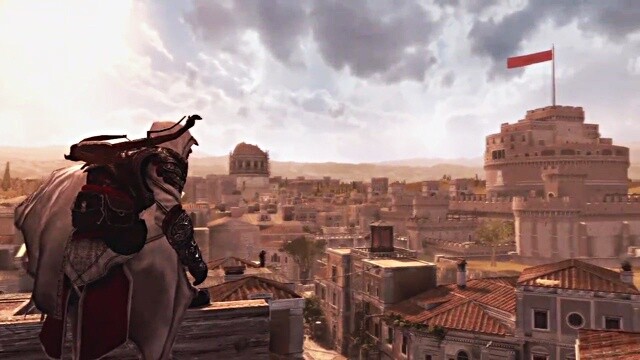 Assassin's Creed: Brotherhood – Rome Trailer
It is not a necessity but a virtue
These associations and comparisons became fewer after just a day, but they didn't completely disappear over the course of the holiday. Obviously, my brain began to spit out old memories with new impressions, but it also made its way over and over again.
However, over time, I realized that this strong bond also has its advantages. Assassin's Creed not only piqued my interest in Rome, but fed it as well. Having experienced a lot of feelings in the Brotherhood, from courage to love, I indirectly associate the real city and the real culture with those feelings as well. And memories, whether they are facts about history or just an ocean, are best remembered when they are associated with emotions.
That is why, after all these years, I still knew an amazing amount about Rome and remembered the new knowledge well: the geography of the city, its sights, its history.
For example, when I stood in front of Castel Sant'Angelo, I remembered that it was originally the tomb of a Roman emperor, but there they also held prisoners. It is no coincidence that Ezio sneaks in to save Katerina Sforza. I also knew intuitively the direction the Pantheon was facing and was able to present the broad history of Borgias without looking at it outside the Brotherhood.
And that's not all: even after my vacation, the effect of this connection persisted. As I put the Brotherhood's mental filter on just about everything in Rome, it was different in the game. After the holiday was over, I started a new round of the Assassin's Creed Brotherhood and compared everything to my experiences from the holiday. Of course, open world Rome doesn't reproduce it in as much detail as Paris in Assassin's Creed Unity, for example, but I was still able to orient myself without a known map, points, and landmarks.
I was so proud of myself when La Volpe spoke at the match that he wanted to meet Ezio in Trastevere. Trastevere? Know the neighborhood! There are great restaurants and the best pizza I have ever eaten.
In the end, I am still amazed at how much my old fraternal experiences affected my vacation in Rome, which in turn influenced my new career. A rather annoying reaction at first, which I no longer want to do without.
How about you do you also have such associations for games in real life?