Status: 06/06/2022 11:09 AM
The Ostfriesland Biennale opened for the first time on the fiftieth weekend and will run until 4 September. The exhibition concept presents 30 artists in 17 locations and runs through September 4.
Every summer, the East Friesland region wakes up from its slumber and becomes a destination for vibrant cultural tourism. Not only do the Art Gallery and the State Museum in Emden shine with enticing exhibits, but there are also well-respected organ days and two parallel music festivals, which often draw their audience into somewhat hidden places. This influence must now be intensified further: through the Ostfriesland Biennale. The exhibition concept was developed by a specially founded association.
The idea for the Ostfriesland Biennale was born a year ago
Board members of the Ostfriesland Biennale: Willem Julius Muller (from left to right), Ina Gratz and Silke Oldenburg.
The East Frisians who live abroad call themselves Ostfriezin Putin. A year ago, the idea of ​​creating a decentralized gallery concept for the indigenous district, where existing cultural institutions would participate, came up in a Germany-wide network of art enthusiasts and art activist Buten-Ostfreesen. The association was founded and the initiative president Ina Graz. "At the time, our idea was different: We wanted to invite five artists to five locations," says Graz. "Friends helped develop this idea – that's how this project grew. This developed its own dynamic, resulting in the five sites becoming 17 sites and the five artists becoming 30."
'Places many East Frisians have never been to before'
Elka Erdwins, a spokeswoman for the Emden Art Hall, is excited that the time has come. Paintings, sculptures, photographs and video installations can be seen and distributed throughout East Friesland and even beyond. "The Biennale connects so many wonderful places that even the East Frisians have never been," says Erdwins. "Sometimes they are gardens, they are former castles, castles of chieftains, as they are called in East Friesland. Some are also private areas. But above all – and I think this is wonderful: it goes across the border, and also goes into Holland."
Originally intended to display art objects outdoors, this plan is still recognizable. "Most of them are outdoors. And that's also the purpose: people who don't have the desire to visit these cultural institutions can suddenly stand in front of a work of art and engage with it."
Visitors should embark on a journey of discovery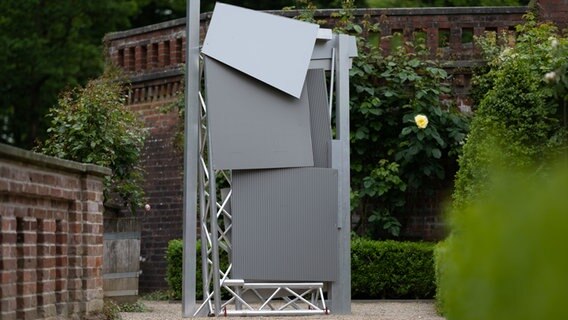 The statue by Olaf Metzel can now be seen in Eevenburg Castle as part of the Ostfriesland Biennale.
However, during diligent planning, interior spaces were also added, for example in the Auricher Kunstverein, which was able to complete its residence in an idyllic place called a tea house in time. Some exhibition sites feature only one work, explains Biennale President Ina Gratz, while in others works by many artists, some of them well-known, can be found. "For example, the Dutch artist Constant Döllert is represented at Steinhaus Bunderhee. In the castle garden in Lütetsburg there are works by Monica Goetz, Gregor Hildebrand and Henrik Eden to see. You have to stay a little longer in the garden, you have to go on a journey of discovery to see and enjoy this work" .
The motto is "Art and Landscape"
The motto of the first Ostfriesland Biennale is "Art and Landscape". The natural and cultural landscape of the area is the subject of many works, says Jasmine Alli, director of the museum. "Artists have another approach – a sensual and aesthetic style that does not explain, but rather makes visible," she says.
The fairs are located along three popular cycling routes
Anyone wishing to visit all the works and sites of the Ostfriesland Biennale now have three months to do so – and a road of about 250 kilometres, which easily follows three popular bike paths. This is deliberate, as confirms Putin Ostfriesin Ina Gratz. "When we think of the East Frisian landscape, it is closely related to the fact that we experienced this scene by bicycle," she explains. "This perspective is what we want from our visitors and they can only be encouraged to take their time and look at this exhibition in peace and quiet, to visit the Ostfriesland Biennale by bike."
Biennial means "every two years". The initiators assume that the concept, funded with European and government funds, will become well established. Elka Erdwins, who, as Emden Kunsthalle spokeswoman, has been observing the East Frisia art scene for decades, was so excited: "The project really brings a breath of fresh air to East Frisia. Now there are new generations everywhere, young women at work everywhere, As museum directors as well as Biennale presidents. I think that's really cool."