In front of the changing rooms at Diego Stadium in Grobisstadt, hardworking hands stick the sponsor's logo for the Food Project on the golden helmets of American football players in the Berlin Thunder. Training will start soon. Bjorn Werner, 31, tall, broad shoulders, jeans, red polo shirt, red sneakers, neatly short full beard, greets his staff with a handshake. The former professional soccer player for the Indianapolis Colts has been in charge of the Berlin soccer team since last September, which is now starting the second season of the new European Football League (ELF).
Mr. Werner, ELF's second season of the Berlin Thunder (3pm with Hamburg Sea Devils) begins on Sunday. In Thunder, are you more of a sports director, a team owner, or a coach and friend of some sort?
I think it's a combination of everything. I am a shareholder. I'm officially the sporting director, but I don't like that title at all. I am just a co-partner who brings footballing knowledge. Not many have played at the highest level in the sport and I think that helps a lot. Although I've never done anything like this before: I made a team.
The team was built last season.
Yes, but it is now a complete rebuild. I wanted to pack my own touches. I have support from other contributors. This was missing last year. I brought in a new CEO: Diana Hogg. Half of the team has been replaced. There are new coaches. Feel this swing full of new energy. In the first year of ELF, of course, not everything was so easy.
As a Berliner who returned from the NFL, why not invest in the new team from the start?
Last year the league asked me to participate. And I said, No, I'll take a look at it first. My business partner Patrick Isom is the league's commissioner. He founded it with Zeljko Karajica and the SEH Group. We are in the daily exchange. I didn't want to join because my wife was pregnant with her third child. You said that this was a very big task while I was waiting for my son to be born healthy and sound. So I looked at everything from afar.
And the?
Unfortunately, the Berlin Thunder wasn't great last year. They were the worst of the eight teams with another team. Now we are already twelve teams in the league. That's why we had to put a lot of work into the structures. This was the most important thing. You cannot expect a football team to win if the structures are not in place. We think we did a great job.
What has changed?
Spirit. People want it now. It starts at the weekend against the top two teams of ELF. Hamburg lost only one match last year – in the final. We expect 4,000 fans in a stadium with 5,000 spectators, and this immediately creates a nice atmosphere for the boys. I'm curious to know how they deal with it. Not many people had anything like that.
Last season, Thunder had no established training ground, nor a base in the city. Is it now home on Lipschitzallee?
Yes, the Neukölln Sports Department allowed us to use this as a training facility. We are very grateful for that. We have a good agreement that we will bring something back into the Neukölln outpost. There are many initiatives where we bring the touch of football rather than always football. They felt it because they saw American football growing in this country.
What initiatives?
Christopher Kohfeldt, our defensive coordinator, was with three players at an elementary school club. I explained what football is. They had toys, equipment, and they let the kids practice so they could play sports, and throw a soccer ball. This is new to many young people. Our goal overall – also for me on TV – is to allow more football fans to grow. The first touch as a child in Germany is always football. But maybe not everyone likes football. Even a little chubby kid can play soccer with us. Long lulatsch is not just about playing basketball. We always have a site for every body size.
Did your popularity as a former NFL professional help you sign new players?
Unfortunately, recruitment does not work that way. This is due to the league's salary cap. Each team has a maximum amount that they are allowed to spend. Just because a team has more money doesn't mean it can bring in the best players. It comes down to: What can you offer players off the field? Do you have great facilities? Great patrons where do you have a good time when you come to Berlin? Don't forget: most of the team are local players. We have twelve imports, which are very important. But in Berlin we have more competition with the local teams than the German Football League. Everyone is trying to bring in the best local talent. It works with some. You lose some because we can't bid with enough money. The GFL has no salary cap rule.
What is your team now?
We have hungry players who are ready and know the standard we want to set here. The atmosphere last year was low: the loss is OK. If I'm involved, I can't accept such a thing anymore. Either we do it right or you're gone. Tell the players that. And coaches too. That's how it goes as long as I'm here. And in the end no one can fire me because I have it too, that's the nice thing. There is nothing above me. I have partners who completely trust me – we are not a club, but we are like a startup, a franchise. Shareholders put money into it. We try to be successful so that we can get sponsors, sell tickets and generate merchandise revenue.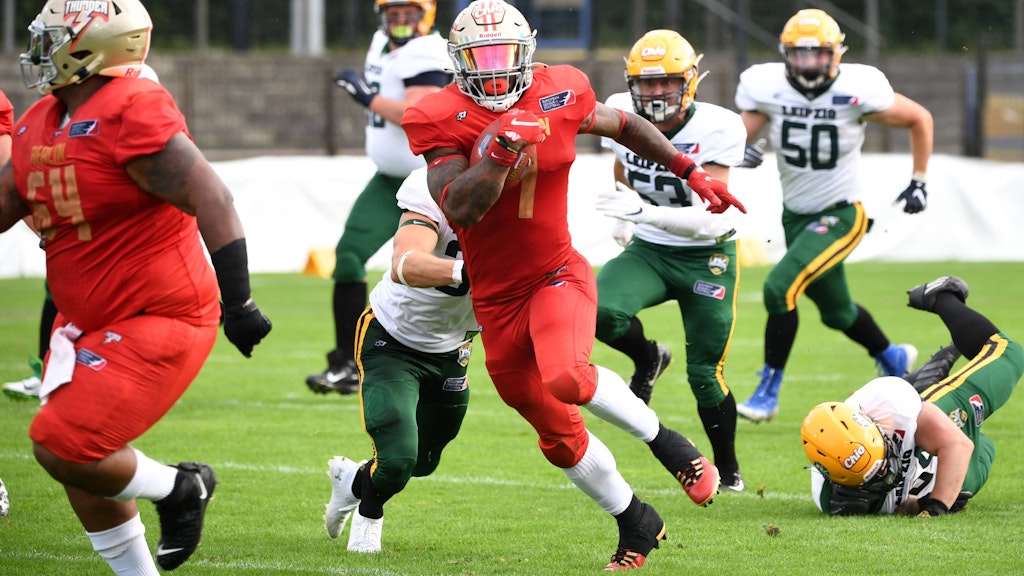 How would you like to be part of a concert in Berlin with the big professional bands like 1. FC Union, Hertha, Alba, Eisbären, Füchse or BR Volleys?
At first we try to present everything internally. The football fan base in Germany in general is growing. Yes, we are 4 million people in Berlin, but we also have a lot of successful teams that play in the tournament every year. There is competition for tickets. How much can the average Berliner spend on tickets annually? We're all on our way, we have a radio partner at Kiss FM, we have posters in the city, in the subway stations. You just have to move the media disc. I also bring a small group. But in the end you have to be successful for the fans to come along. Nobody wants to be a part of something to lose. This is the natural instinct of man. Want to be with the winners.
As a TV commentator and with your podcast "Football Bromance," you don't just bring in the coverage. They also invent words like "laberlauch".
We do it very well. Perhaps one day there will be a dictionary for us.
Is American football primarily a youth sport?
In any case. The older audience is, of course, a football nation. Football will always be big, but you can tell the youngsters are thinking: always the same, always the champions of Bayern Munich. It is becoming increasingly difficult to make stadium football family friendly. Football, as I know it from America in the NFL, is a huge family event. You bring your children with you and you don't have to worry that anything will happen. Unfortunately, in football, as we've seen with every intrusion into the pitch, some are a bit unruly. Football has boomed in the past three or four years. Maybe people are ready for something new.
Your biography indicates that 17 or 18 years ago, when I started playing football with the Berlin Adler team, no one knew anything about this sport.
It's great for me as a former footballer who grew up in Berlin and then moved to America: I'll be back in the middle of the boom. On the street everyone has goods. You know me here and there. We have incredible reviews, including on social media. This is not lived.
"Football Bromance" is one of the most successful audio programs in Germany.
Patrick Isom and I said that fans are not only willing to watch football on the weekend but also watch content during the week. We've been doing podcasts for two and a half years now and it's always on top of sports podcasts. He took first place for a long time, of course, footballers always differ a little: we do not pretend to be like that. We always say what is on our hearts. This is important. Personally, I know my interviews from the NFL, where I always tried to be very professional. I'm not in the NFL anymore. Now I can be me You don't care about your career anymore, and don't even think about it – if I said it now, the media would just drag it through the dirt. I now "inform" myself of my part. Anyone can listen to the podcast and form an opinion.
There can also be headwinds on social media, hate, contempt.
We always talk about mental toughness. Not everyone can always stand how powerful posted in today's social media comments are. Some doors have been kicked in and you can no longer close them. Then you have a problem if you don't talk about it. We all have these followers. But these followers have a price: opinions.
How do you deal with that?
As a player, I've always stayed away from social media. Now it is part of it. When someone gives funny criticism, I say to myself, "Ah, you may be unhappy in life. Do whatever you want." But I'm fine. it is fun. If people keep celebrating like I do – that's great. At some point the window will close. Every profession has a window – especially if you are a public figure. At some point this will close.
For what purpose do you want to use the window with Berlin Thunder?
The goal is just to get in when we're playing and go full speed for four quarters. If we win in the end, that's our claim – great. If we lose, we correct the mistakes and do everything for the next match.
Do you also receive team letters?
That's why the coach is there. But of course I sometimes add my two cents. I also think it has an effect when a former NFL player says something here. Also for coaches. I don't want to just be part of the crew that pays them. Coaches never went to the NFL. It is always a question of communication: a woman – a man, children – parents, in sports, at work – if you treat each other with respect, it helps the whole team.
Interviewed by Karen Buehler.