Status: 03/06/2022 08:43 AM
NordArt starts tomorrow in Büdelsdorf, Schleswig-Holstein, one of the most unusual art galleries in Europe. Each year, art from around the world is presented in a former iron foundry and sculpture garden.
listen to another
4 minutes
If you are angry Just After that, one could say: That was obvious! The six-meter-tall Pinocchio by Chinese artist LIU Ruowang pulled out his nose so clearly that something could have happened – in this case with weight. "Mr. Pinocchio," as he calls himself, still lay in the yard, stiff on his back. Curator Wolfgang Gram knows why: "The weight specifications for our endurance vehicles were wrong. Now we have to have a winch, which isn't a problem. But it takes a few hours, a day."
The exhibition organizer explains that things are tight during construction this year: "Some were in Suez or off Heligoland because they couldn't be offloaded in Hamburg because so much cargo got there. Then they had to wait. Otherwise we would have had a month earlier."
Final construction work at NordArt in Büdelsdorf
The Chinese Liar is allowed to rest next to the rusty shipping container from which János Pritke is apparently unloading heavy loads with a forklift. It's made of Corten steel and chocolate brown coloured: "36 human-size figures from China: Today we're offloading and unloading—and tomorrow we'll go to the park," he says.
Even if the numbers are covered: People can be identified by the foil in daily life. Someone is on the phone or swinging their bag. Another rushes somewhere. Every plastic demands attention: How do the belts fit? Can the forklift fork extender further without the whole thing tipping over? They survived their long journey so well! "Each figure is secured at a sufficient distance with ceiling beams in the container," laughs Janusz Pritke.
The group of characters will stand in the sculpture garden until mid-October and present an exotic portrait. A bloated figure stands strong and tends to lie in the middle while the human heroes spin around: a completely political picture – not just for China.
50 years of diplomacy between Germany and China: focus on Chinese art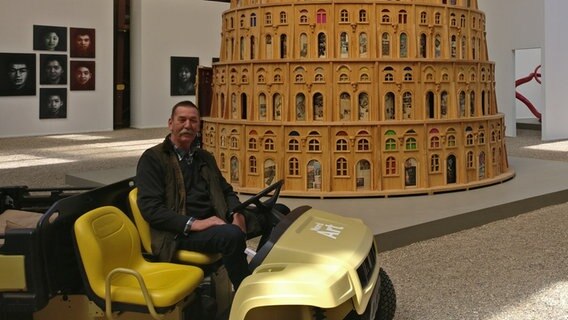 Wolfgang Gram, Curator of Nord Art, drives the huge exhibition area with a golf cart.
This year NordArt displays current Chinese art in Hall 1 on a bed of colorful pebbles. Wolfgang Gram ordered his golf cart; Otherwise, the huge area here isn't permanently navigable: "If you look closely, you'll see little Americanized aliens at the entrance, or Ming dynasty horses to be found in a giant board, or excessive bicycle production," he says. "You can also find burnt out pictures. It all comes from China"…and it presents itself as NordArt – usually big, almost massive. Wolfgang Gramm explains these figures as evidence of the scale of the museums there.
He takes it back to Carlshütte, the former iron foundry, where he shows only some of the 200 contemporary artists: "One is the country focus in Poland and the other is our own projects: Mongolia with its own pavilion, House of Chariots, China: 50 years of diplomacy between Germany and China."
A cross-section of famous Polish art
The Polish pavilion was supervised by Jan Wiktor Sinkewicz, art historian and professor at the Nicolaus Copernicus University in Toru. With "Above the Borders" gives an overview of modern and modern art in our neighboring country. Among the exhibits are the sculptor and textile artist Magdalena Abakanovic and the great Polish painter Tadeusz Rolick. "Here we have a cross section of famous Polish artists who have found fame abroad. It took a lot of effort to get these things here. The logistical problems are very big in these times."
But everything went fine. The Chinese Pinocchio will be erected, too. Tomorrow will be NordArt 2022 has officially opened and will run until October 9.
Lots of artwork in lots of spaces: NordArt starts in Büdelsdorf
Starting tomorrow, art from around the world will be presented in a former iron foundry and sculpture garden.
Writes:

Exhibition

Date:

End:

Site:

Carlshütte artwork

24782 Budelsdorf

phone:

(04331) 354695

E-mail:

info@kunstwerk-carlshuette.de

price:

18.50 euros reduced 16 euros for students 6.50 euros
Enter in my calendar