Anyone who has been out in the Saint Petersburg nightlife knows just how vibrant and diverse the club scene can be on the Neva. With how much creativity the historic downtown walls are temporarily used and how techno beats the roar of old suburban factories even after dawn.
Yet this nightlife is still in full swing, if you look around the net you will find jam-packed party calendars and pictures of crowded dance floors. "You hardly notice in the clubs that this country is currently at war in Ukraine," says a friend who has just returned from Peter.
But the picture is mixed behind the scenes. In fact, many representatives of the Russian creative scene are opposed to the so-called special operation. "In my circle of acquaintances, no one was a supporter of the government at all," says Sasha Vardanyan, who runs two nightclubs in Petersburg. "Basically all my friends are opponents, and the most radical part of them has already gone abroad – but there are also those who divide the state and the government, and do not want to leave their homeland."
Politics is a dirty business
The first weeks of the war were frustrating. "Yes, we took to the streets, we were demonstrating, and three of my colleagues were arrested." But soon enough, normal operations returned, although there were no European tourists and foreign DJs. "The mood is not the same as it was before February 24. But I can't just shut down, I have 24 employees, and I can't just bring them home."
He keeps political events out of his stores as a matter of principle, "We are democrats in this respect. Everyone is welcome." Politics is always a dirty business, says Sacha — a phrase that has been heard a lot in recent weeks, often as an excuse for those who prefer not to talk about war in public. .
For the perforated cerebral party (PCP), this was not an option. The electronic duo, who have already been guests in Berlin and at the Fusion Festival several times, gathered a lively artist community around them in Russia with the slow sound of "Somatik" techno – and seized the initiative right at the start of a war.
"We had a party planned for February 26. We didn't cancel it, but we turned it into a silent delirium of solidarity, without music, to give people space for their grief, fear and pain. For a while we all stood in silence on the dance floor."
At the same time, the idea of ​​\u200b\u200banti-war sampling appeared. Just a few hours after the start of the war, Vova and Nasstja launched an appeal for artists on social networks to contribute music tracks. "It immediately became clear to us what independent musicians and labels could do in this case to express their position. In addition to propaganda, this system is mainly based on the fears of the citizens. We wanted to make it clear that people should not be discouraged from calling this war as such."
Proceeds for Ukrainian refugee children
Not an easy task, because in light of increasingly restrictive censorship laws, many artists were already afraid to put themselves down, some participated only under pseudonyms – others supported the government's path: "Some old friends made us disappointed with their pro-war stance," Nasstega says. We cut off contact with them." "A few of them even accused us of financing our sample from Europe."
It was clear from the start that the proceeds from "STOP" would go to Ukrainian refugee children. Since Russian artists could no longer receive any income from foreign music services due to sanctions, a friendly Berlin label helped release at Bandcamp.
More than 50 pieces have finally been assembled, with titles such as "Tears of War Machine", "Song of the Dead Soldier" or simply "Go out", some set the war machine to music with dark electronic sounds, and samples of Orthodox church singing can be heard , but also the surrounding devotional structures.
Most musicians refuse to comment on their anti-war pieces, apparently because they are too concerned that using the wrong word will fall under the new fake law. On the other hand, musician Tishaga Rika frankly says: "It is important to show that there are enough people in Russia against this war. In the twenty-first century, we simply have to solve such conflicts differently; after all, humanity faces more urgent problems. : environment, poverty, climate change, lack of drinking water, etc. Instead, those in power are playing strategy games and ruining many lives."
Reaction to the post has been mostly positive, says PCP's Vova. "Many wrote to us – including from Ukraine – and thanked us for not remaining silent, but for taking a clear stand."
Solidarity with Skochilenko
They continue their commitment. A second sampling is already being planned, and when Saint Petersburg artist Sasha Skochelenko was arrested in April for writing the number of war casualties on price tags in a supermarket, PCP organized a solo party, albeit not without snags.
First, a well-known anti-LGBT activist threatened to disrupt the concert with his supporters. He didn't turn up, but right before the start our sound engineer was forbidden to plug in a microphone. It is absurd that the authorities did not prevent us from speaking, but rather our colleagues at the club. Simply because fear is too great. "But the political message cannot be prevented that evening: videos can be seen of hundreds of visitors expressing their solidarity with Skochilenko in loud cheers.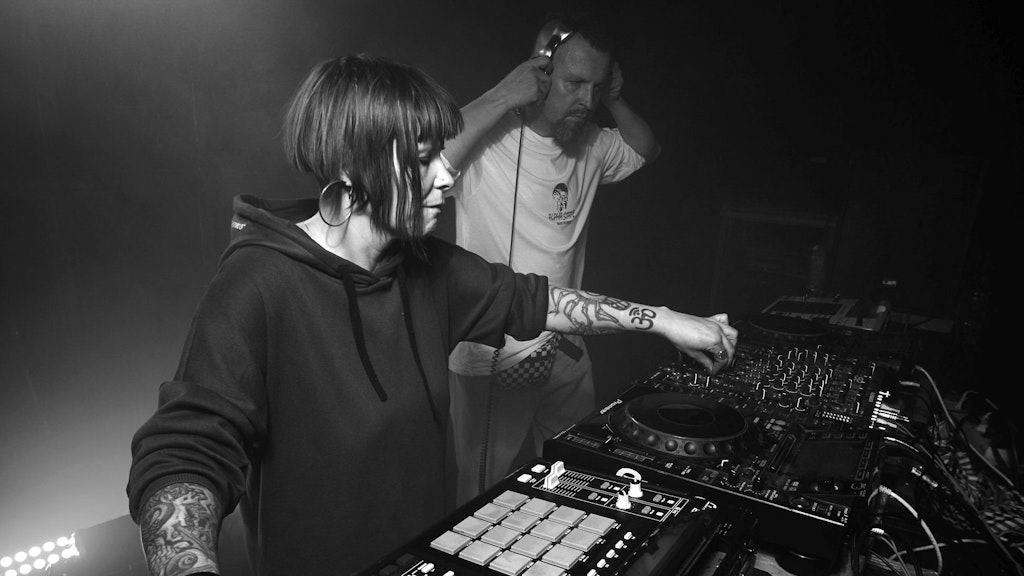 But in the city's techno clubs, such protests will likely remain the exception. "Clubs are places where people want to forget about problems, it has always been and always will be," says operator Sasha Vardanyan, then tells the story of an acquaintance: "In the first four weeks after the war began, she did not set foot in front of them. Close the door, because Her utter sadness, she was completely on the end of her nerves."
A few days ago she was sitting here at the bar and thanked me. She was happy to have this space where she could feel alive and think of something other than this disaster for a few hours."
Somatic Sound System: STOP
Released on Bandcamp at:
https://somatiksoundsystem.bandcamp.com/album/stop