The story of this rescue operation sounds like the plot of a feature film: a Ukrainian art dealer and gallery owner risk their lives to save artworks from the besieged city of Kyiv. They do so not on behalf of the government or any other organization, but on their own initiative and out of a love of the arts. In an interview with DW, Katerina Fozyanova and Oleksandr Shelushenko talked about how they were able to bring the artworks to Germany.
Preserved photos of art dealer Katharina Fuzyanova at ARTMUC Munich exhibition
'It was very scary'
In February, Katharina Fozyanova, a Ukrainian antiques dealer, fled Kyiv. At that time, she had very little time to save her art. "When the war started, I jumped in my car with three other people and drove off," she says. "I only had a small suitcase and a small painting of Yevgen Petrov with me."
Born in Kyiv, she worked with several art galleries in Kyiv and London before the war and addressed contemporary and pioneering art. She did not expect her life to change so quickly.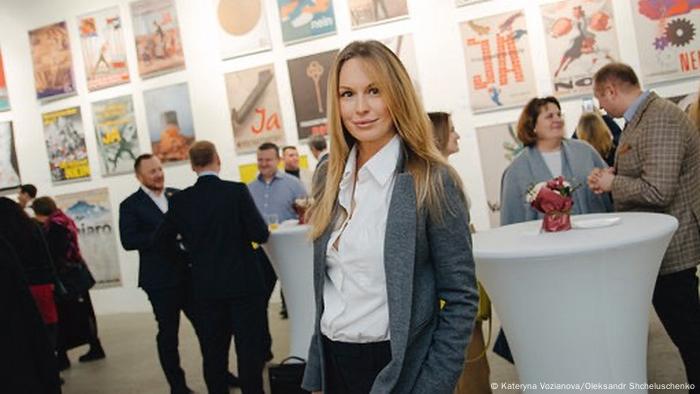 Katerina Fozyanova is the Ukrainian actress for London-based art dealer James Patwick
She has already planned her next major exhibition with the works of Ukrainian painter Evgen Petrov with gallery owner Oleksandr Shelushenko. Dozens of his artworks have already been stored in the Shchelushchenko Gallery "TSEKH" in Kyiv.
The war changed everything
After a short stay in Munich, Fouzyanova returned to her hometown – she did not want her art to fall victim to the war.
Shchelushchenko recalls Katharina's return: "She suggested that we take our artworks to Germany, where she is in good contact. She will transmit art as a courier and organize everything that goes with her."
And so the daring rescue of the two began: while the Russian army was attacking Kyiv, Shchelushchenko traveled to his gallery and took pictures from the frames. "When I came to Kyiv on March 7, it was very violent. Kyiv was being bombed. There was bombing all over the fair." He was supported by armed auxiliaries. "Of course we came with guns and special protective clothing."
Antique dealer Shchlushenko (right) with collector Maxim Cherkasenko (left), a member of the Kyiv Civil Defense Force and involved in the rescue
"Either work or die"
Shchelushchenko himself learned to appreciate completely new things during the rescue: "It was very interesting to me to see that everything should happen very quickly in the war. You do not have time to:" Oh, I like it. Oh, but I don't like it. You don't have time for sensitivities. Either you act fast or you die."
When packing the photos, the gallery owner showed ingenuity. He collected artworks by contemporary artists Evgen Petrov and Mykola Billos with his assistants and placed them in sewer pipes. This protects them. "There were three huge tubes, about the length of me," Fouzianova says.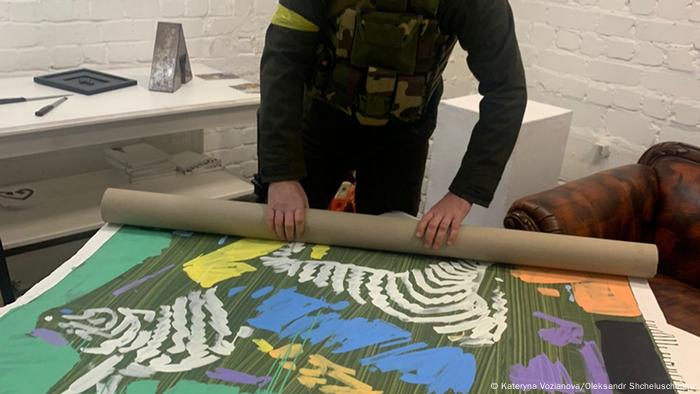 About 40 images have been saved from the gallery
While Shchelushchenko carefully wrapped the pictures, Vozianova toured Kyiv. She salvaged more paintings from her own apartment and collected valuables her friends left behind when they fled.
Then she picked up tubes full of Shchelushchenko's artwork, loaded them into her car and drove to Chernivtsi. The western Ukrainian city is about a 45-minute drive from Romania.
suspicious tubes
Although the war was far on the Ukrainian-Romanian border, Vuzyanova had to face very ordinary challenges there: "You cannot drive across the border in this way. I had to provide documents that prove that the pictures are not national cultural assets, it is contemporary art. "
Also at the airport, the security staff initially did not allow them to check in. "They saw me, a little girl with these big tubes in her arms, and they said, 'What the hell is this?' "Then they x-rayed him to see if he had any weapons on him."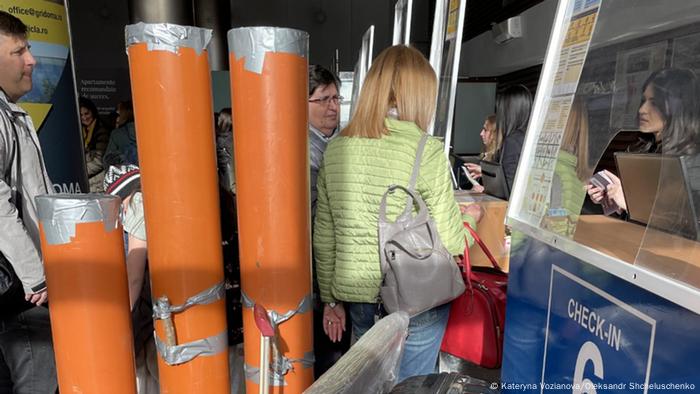 Unusual packaging: the plates were transported in sewer pipes
About 40 photos have arrived in Munich
Pictures from the flight from Kyiv to Munich survived unscathed. What will happen to them now remains uncertain. Katerina Fozyanova and Oleksandr Shelushenko want to display and sell it to collectors. "We already have invitations to Art Week in Berlin and Vienna," says Shelushenko confidently.
The images will first be shown at ARTMUC in Munich. It should then be displayed in a popup gallery. "It should be displayed alongside other artworks from Ukraine. We want to support the artists stuck in Ukraine," says Fozyanova. There is no longer an art market there at all. Many of her artists became depressed, began to drink and stopped painting. The war weighs on them, says Shelushenko, who has turned his back on Kiev because he no longer feels safe there. He now lives out of town and takes care of his mother.
"We are in constant contact with them," adds Fouzyanova. "Mykola Billos is a really strong man. He told me, 'I will protect my house and my studio, I will definitely not leave.'" Evgen Petrov does not want to leave Ukraine either. "None of them want that." But once they change their minds, says the art dealer, "we'll get them out of there at once."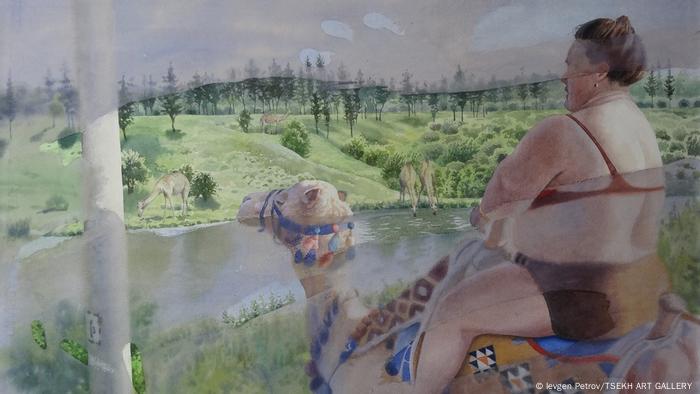 Photo "Vacation" by Ukrainian artist Evgen Petrov
ARTMUC will be held in Munich from May 13-15.