An exhibition of the Women's Department in Frankfurt, featuring eleven artists from Frankfurt and Tel Aviv, addresses this question. Their answers are varied – and sometimes also concerning where there is no home.
"My parents don't know that I do this," Shinan Pandan said, laughing slightly. Sheenan stands in the exhibition hall in Frankfurt-Sachsenhausen, with warm scenes of people cooking, reading and laughing together – just being there for each other. The artist continues: "I am no longer in contact with them." Sheenan identifies as non-binary. This means that a person does not fit into the traditional classification of males or only females.
Home as a place of happiness and a place of acceptance
Sheenan explains, "The family is where a lot of support has to be. If that goes, for example because the family is anti-queer, then of course the question is where do I get that support from?" The four panels that Sheenan designed for the gallery home.frankfurt.telaviv provide the answer.
Shennan is one of eleven artists participating in the Twin Cities Exchange project. Shenan's project, which also includes poems and drawings, is called Home Is Your Chosen Family: "For me, home is a place where I can be myself, where I feel content when I have people who are right for me, and who I love."
Diverse and multidisciplinary
Artists' answers to what home means to them personally are very diverse and interdisciplinary. Next to Sheenan's paintings hung pictures of black performer Barbara Lucy Cavallo, dancing. The artist's body is home here. A little later, Israeli artist Noga Or Yam treats her nationality and home as a cultural place in her black and white photographs of the cactus plant.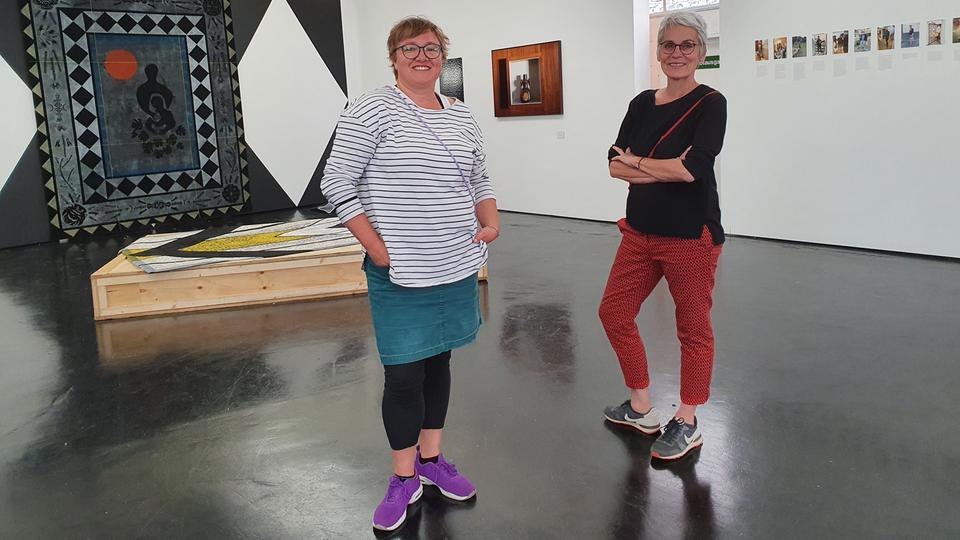 "We have deliberately chosen the English term for an international project," explains coordinator Sonya Muller. "And we deliberately did not say the word 'at home', but 'home', because that includes a lot."
"Received" from Frankfurt
For a long time, the exchange project was carried out exclusively via the Internet. Last year, in the middle of the lockdown, Frankfurt's women's department launched its online accommodation website home.frankfurt.telaviv. It is now being shown in real life at various locations in Frankfurt.
"We wanted to take Frankfurt, so to speak," Linda Kagerbauer of the women's department says and laughs. "That's what this exhibition aims to do: get people to move, connect and talk in different locations."
Winking cat and house sound
In the mosonturm you can hear the rumble of the plates, the murmuring voices and the soft piano playing behind a black curtain. Behind her stands Julia Mihaly in the middle of a sitting room groomed on a faded Persian rug, surrounded by comfy armchairs and armchairs and strange things like a huge waving cat.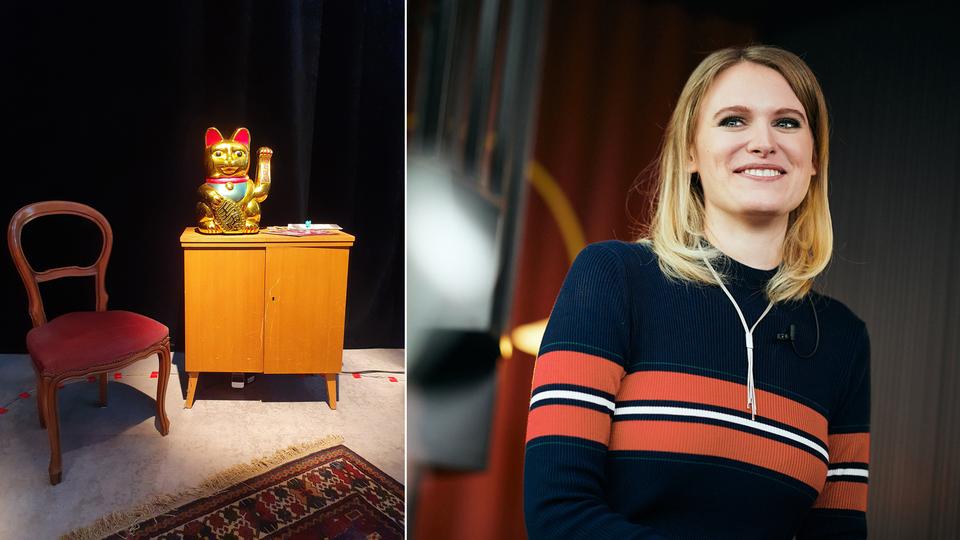 A soft meow comes from one of the speakers and the cat moves its arm. "I actually have them at home," explains this Frankfurt native. Many of the elements have a personal relationship and are also closely related to their Transylvanian roots.
Imaginary shared house
The composer and instrumentalist observed her daily life and collected noises to synthesize the sound. "Our heating, for example, makes a very specific cracking sound in the winter, and I think if I didn't know where I got up, but I heard that cracking sound, I know I'm home."
Her electro-acoustic composition also contains sounds from the "houses" of other artists, which Mihaly sent her. In the times of video conferencing and digital conversations, a common imaginary home appeared for all participants.
But now everyone is looking forward to getting to know each other in real life. "I'm so excited," Shinan Pandan reveals, sitting in the sun with a cup of tea in front of the exhibition hall and enjoying the last few quiet minutes. "I think it will be a beautiful and inspiring week."
additional information
home.frankfurt.telaviv
Technical project results are still Until May 8 Let's see in Exhibition Hall 1A on the Schulstraße in Frankfurt-Sachsenhausen, in the Historical Museum, in the Jewish Museum as well as in the Frankfurt Theater and Mossonturm.
The end of more information
additional information
The end of more information