Photos: Burgtheater/c_Susanne_Hassler-Smith
Vienna/Burg Theater Academy Theater:
EUROTRASH by Christian Kracht
Austrian premiere
Premiere: April 29, 2022
If you want to trust an interview that prints the brochure of the Academy Theater Program for the Austrian premiere of "Eurotrash", then the author's mother Christian Kracht was exactly as he portrayed her in his novel – in her old age she was already suffering from relapsing dementia, addicted to vodka and dependent on drugs. However, the 55-year-old writer wished she had taken one last trip with her before it was over. In real life he did not dare, but like all writers he had the opportunity to get it off his chest as a fantasy.
"Eurotrash", Christian Kracht's first-person story, appears on stage as a play for two in an hour and a quarter (short and long acting). A story where you don't really know what is supposed to be real and what is fiction. The insecure son, the dominant mother. She dreams about Africa, supposedly taking her there – in fact taking her back to the mental hospital. In between, one thing or the other about a "taxi ride through Switzerland" might be real, for example when they end up in a community – a trout meal that tasted so good 45 years ago, on the other hand, probably doesn't really happen , although clearly there was fish and chips on stage … and can you believe that the son (no matter how isolated he may be) does not care that his mother wants to give away 600,000 francs (!!!!) or even throw him in the air, as The wind blows the banknotes? You will quickly return to reality, unless you are a millionaire…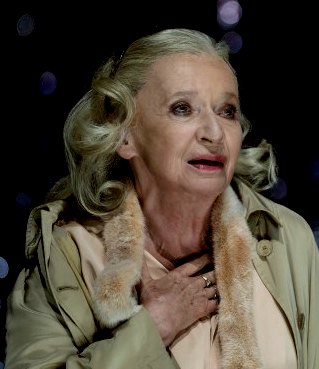 Admittedly, a story like this isn't easy for a director. "Eurotrash," whose title isn't adequately explained on the show (either rich, despised Europeans? or just money being transported like crap in similar nylon bags?) is played in front of a shiny curtain, to raunchy music and largely on eco-friendly, scalable Convertible all-purpose sofa from (equipment: Nina Witzel). that happens Itai Terran Drained properly, it becomes very awkward when it comes to an old lady's colostomy, whose son has to change and dispose of her bags full of excrement. The exchange of blows between mother and son is somewhat interesting, because the delay is not so substantial, the Nazi grandfather is more hinted at than discussed, and the events are rarely verbally funny or landscape. Occasionally one notices an attempt to impose "poetry" or emotion…
It might well be that Eurotrash could gain some life and charisma as a novel that plays into the reader's imagination. When dragged onto the stage, the different levels of reality and fantasy find it difficult to find a convincing figure. Above all, a piece that isn't, a plot that isn't, violates a fundamental law that doesn't just apply in cinema: you don't have to be boring.
The main character, "He", in particular, looks boring Johannes Zerner He plays the role of an insecure and emotional person more than a vulnerable, sensitive person. Several times, as a Swiss bartender, for example, he is allowed to slip into a fringe figure, expressing a bit of a comic focus with his accent and body language. As a son, he can't do that.
But Barbara Petrich Save the evening. A confused old woman plays any top-notch actress out of sight, especially since you can make the rules for the character yourself here as you wish. But there's just something about her ability to belittle her terrified son, even if it's kind of awful (why do family members have to be so horrible to each other on stage and on screen?).
It's hard to say how realistic the character Barbara Petrich is putting on stage. As a theatrical event, it shines and sparkles. Since every home worth its salt would likely have an old lady eagerly awaiting such a role, Kraft's novel, which has won so much acclaim in the Academy theatre, may find its way into the theatre. Even if there is really little.
Renata Wagner