At Imola, Mercedes came down with a black eye. George Russell placed fourth. The team is still third in the World Championships. The key was to fire a missile from 11 to 6. Russell had a mostly clear trajectory. This caused the tires to overheat and the Mercedes was able to show its natural appearance. It could have been completely different, as the example of Lewis Hamilton demonstrates. The former champ was stuck on the DRS train the whole time.
Mercedes' tire problems almost made us forget that there was another major construction site. The recoil didn't go away just because there was no one to talk about. It was still there, even worse than ever. The engineers revealed their internal arrangement: "We hit the jump more at Imola. Then come Jeddah, Melbourne and Bahrain." Imola provided more important information for Mercedes to put the puzzle together properly on the way out of the trap.
It's all about the questions: when, where, how and why does it happen? And why do others suffer from it to a lesser extent or not at all? For example, why does a Ferrari oscillate at similar points with a higher amplitude and lower frequency, and why do red cars suddenly stop when drivers turn the steering wheel or apply the brakes?
Drivers complain of pain
The learning process is an ordeal for the most successful team of the past. Fourth place is not a claim for a racing team that has won the world championship eight times in a row. Not even for George Russell, although he has jumped at every championship point at Williams. At Mercedes, he was at least expecting a regular podium finish. "We know our car can do more than the results suggest. The rebound forces us to drive it in a window where it doesn't look like a real race car."
At Imola, both Mercedes were on the road with more rear axle ground clearance than ever before. However, the drivers were on the verge of a breakdown. Russell complained, "Everything hurts when you shake. Hips, back, chest. It was the limit of what could still be tolerated. But if we go higher, we lose more time." Fellow Hamilton is already running out of words. He is reminded of his 2009 McLaren, which suffered a similar dentition. It took McLaren six months to right the wrongs in that time.
Mercedes doesn't want to wait that long. At the same time, engineers know that it cannot be solved overnight. Because new and unexpected discoveries are constantly being made. "We thought it was less bad in the rain because the speeds aren't as high. In fact, it was no better than on dry roads." Team Principal Toto Wolff concludes: "It depends on a number of factors: downforce, speed and vehicle altitude, as well as external influences such as wind, bumps and driving in traffic."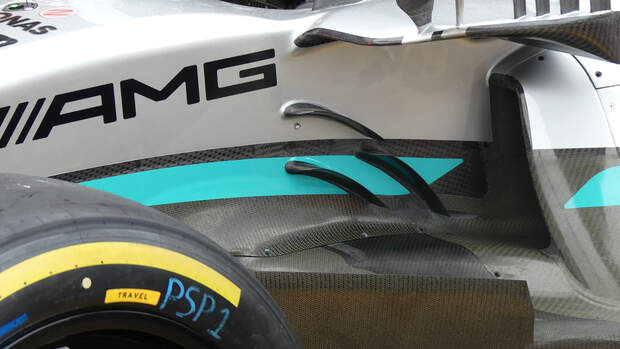 Bull's eye is very risky
The new aerodynamic components that were installed on the two Mercedes cars at Imola did not react to the rebound. "Just a general development gave us more downforce." To decode, you need something that is data-backed and interpretable. "We could shoot a bull's-eye and hope it hits," says an engineer. "Even if we're lucky, the problem won't be on the table. Because you still don't understand it. The next upgrade might backfire again."
This is also why Ferrari is reluctant to make major upgrades. The Championship Leader also suffers from rebound, even though it doesn't cost the driver any time. But that can change quickly if you make a major intervention in the car without knowing how that will affect the rebound. "We will take more steps to mitigate it first," says team boss Mattia Binotto.
In this regard, Red Bull holds a trump card in his hand. The recoil is minimal and the engineers seem to have had it. The latest upgrade in Imola also worked as expected. "It's a purely aerodynamic problem that won't go away completely with these cars," says technical director Adrian Newey. "You have to live with it as much as possible." According to Newey, the key is to manage the various flow structures under the car in such a way that there is absolutely no vacuum so that it sucks the car into the road.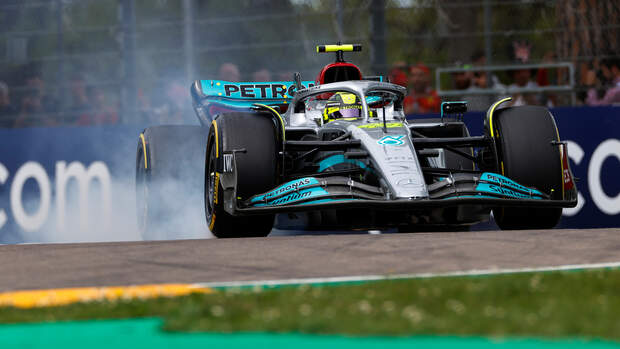 Comparative test in Barcelona
In its investigative work, Mercedes has prepared some tests for future races that should shed more light on the matter. "We will try something in Miami and then again in Barcelona." Toto Wolff pins his hopes in particular on Barcelona. "We did drive with our display model during winter testing. It had less bouncy than the Spec II, which we then presented to Bahrain. Comparing the data between the two cars should take us a step further."
Engineers warn that Barcelona automatically declares a tipping point: "First we have to fully understand the problem, then put it into a mathematical model, then fix it. As painful as it is right now, we have to go through it. There is no faster way out, at least not the way that we see. There's no point in fixing anything now if you don't know what "something" is supposed to look like. If you do, you're making it worse instead of better.
It is theoretically possible to recreate the problem in a wind tunnel, but according to Mercedes and Red Bull, rarely does anyone do that. "You would need a very light model and you would have to shake the car at ten times the frequency to represent reality," Newey explains.