Press release on April 29, 2022
In the form of a new digital event under the theme "Knowledge for Lunch", the State Center for Health Promotion in Rhineland-Palatinate (LZG) together with the Mainz Center for Mental Health in Aging (ZpGA) presents small bits of knowledge around five Tuesdays in May and June 2022 About depression in old age.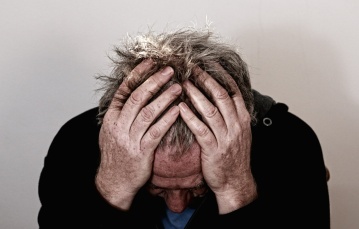 District. In addition to the diseases associated with dementia, depression in old age is the most common mental disorder in the elderly, and it is a serious illness that, in addition to the loss of quality of life, is associated with a higher risk of suicide. However, diagnosing depression in old age is difficult because the symptoms differ from those seen in young adults, are often somatic in nature and often resemble the typical complaints of old age.
Between 12 p.m. and 1 p.m., Wissen zum Lunch addresses, for example, new evidence-based treatments, preventive measures, and special features of psychotherapy for depression in old age. Working with relatives of older adults with depression is also considered. The series targets the nursing staff, psychotherapists, and physicians who increasingly confront depressed older adults in their daily work.
"It is important that those who treat, look after and look after the elderly, are able to recognize the signs of depression and take the right steps," says Health Minister Clemens Hoch. "Even in old age, people with depression can live a carefree life with the right treatment. That's why I love it.
Sponsoring this informative series of events."
After the start by Ministerial Director Daniel Stich of the Ministry of Science and Health in the Rhineland-Palatinate, Dr. On May 3, 2022, Katharina Geschke of the ZpGA provided an overview of geriatric depressive disorder, which is difficult to diagnose. It also shows the efficacy of psychotherapy adapted to aging conditions as a complement to drug therapy.
University Prof. Dr. On May 10, 2022, Andreas Fellgiebel of the ZpGA will explain how depression in aging and dementia can be distinguished from one another and how they are related. It is not uncommon for depression to be accompanied by limitations in mental functioning, which are also typical of dementia. It also shows ways to strengthen mental resilience in old age.
On May 31, 2022, Dr. ZpGA's Alexandra Wotke Lineman describes the condition of relatives of people with depression in old age who are at risk of developing physical or mental illness due to chronic stress and exhaustion and should be given sound advice. Participants receive specific information about this.
Contrary to popular prejudice, psychotherapy in old age has been shown to be effective – but the elderly and the frail in particular do not usually receive good care. Prof. Dr. med. Eva Marie Kessler of MSB Berlin Medical School on June 14, 2022. Outlines evidence-based procedures and methods and provides guidelines for psychotherapy work with people with depression in old age.
At the end of the series on June 28, 2022, d. Nils Haller of the Johannes Gutenberg University in Mainz presented innovative ideas for increasing physical activity among the elderly. Structured and regular exercise has proven to be an effective way to relieve symptoms of depression, but it is often difficult for older adults. Accessible and effective exercise offerings should motivate affected people to remain physically active for an extended period.
All events take place via Zoom, and participation is free. More information and the possibility to register can be found at www.rlp-gegen-depression.de under the heading "Events".
The series of events is organized by the State Center for Health Promotion in Rhineland-Palatinate (LZG) and the Mainz Center for Mental Health in Aging (ZpGA), in collaboration with the Chamber of Psychotherapists in the Rhineland-Palatinate, the State Chamber. The Department of Nursing at the Rhineland-Palatinate, the MSB Berlin-University of Health and Medicine and the Johannes Gutenberg University in Mainz. It is funded by the Ministry of Science and Health of the Rhineland-Palatinate. (evening)
---