With 13 singles race victories and many other finishes on the podium, Felix Neurether is not only the most successful German ski racer, but as a slalom specialist he knows better than anyone about the "perfect curve". In an interview, Neureuther explains how the all-electric e-tron takes the curves and what's missing from politics when it comes to "electronic mobility."
What do you like most about e-mobility?
I have my own wall box in the garage at home and charge my car with electricity from my PV system. It's a great feeling to know that charging an electronic car with energy that you generated yourself. That's twice as much fun on the road, and of course that makes sense too. What I find very unfortunate is that, in my opinion, the topic of "PV systems" is still very little promoted by politicians. Every new building must be fitted with a photovoltaic system, for example. If politicians are already pushing the topic of e-mobility a lot, they should also support the energy for it. Then the whole e-navigation topic makes more sense.

What specifically would you do differently?
When I was an athlete, I always followed the motto: "all or nothing". When you do something, you should do it 100%. Just like the Norwegians do with e-navigation, for example. In Germany, on the other hand, I sometimes feel like it's not a half and a half. We in the family currently drive almost exclusively and now cover almost every distance. You just have to deal with the subject a bit and then it works.



What vehicle is currently shipped in the wall box in your garage?
There are two cars there. The Audi e-tron and the RS e-tron GT. The RS is the craziest car I've ever driven in my life. We don't even need to talk about acceleration. This is totally crazy. I've been driving a "regular" e-tron for about six months now. The driving dynamics surprised me in a particularly positive way. I was a little skeptical at first. I thought the car was less nimble because of the dimensions. That's why I was a little afraid of corners, this has always been my professional specialty. But the weight does not hurt the maneuverability at all.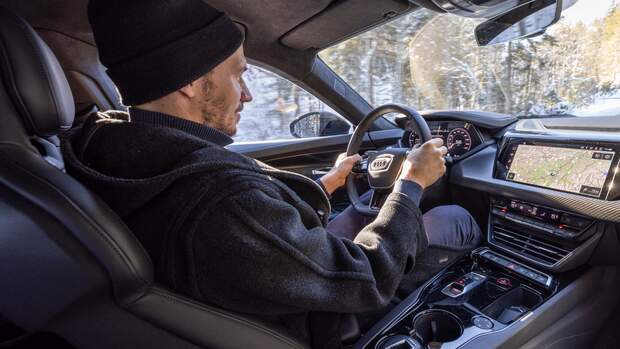 When it comes to shipping: How satisfied are you with the infrastructure, especially in Germany?
This is sometimes really confusing in some stations. In Garmisch, for example, you need a card to download. You can only get that from the community. I wish more simplicity. At Munich Airport, on the other hand, this is indeed a great solution. I plug in the cable, pay a flat rate and that's it.



Were there moments when you ran out of battery – a primary fear of range?
I own! But 99 percent of the time I drive trails where range doesn't matter at all. I can get there and back from Garmisch to Munich Airport without any problems and still have enough range. If there are few ways, then you need to plan a little in advance. But what surprised me is how much energy the car's air conditioning system uses. Combined with a longer stretch of highway, range drops relatively quickly. But I also spend a lot of time in the mountains. The cool thing is that you recharge the battery when braking during the recovery period when driving downhill. This is really fun. Downhill running is still one of the things I love, even when driving an electronic car.
opinion poll
Read more