Status: 01.04.2022 06:00 AM
Daniel and Katharina talk about a new favorite book full of animal metaphors, about literary places of longing and the trend toward kind novels.
It's North German in the podcast: Katharina serves Labskaus from "Sommerby," Kirsten Boye's children's book series, set in a fictional setting in Schlei, and in the library, novels are sought (and found) about that play on the North Sea. But she also goes to Berlin (in the challenge bestseller), to Cape Cod (with the novel "Paper Palace", which the hosts really liked), to the mountains, to Masuria (with a list of All Time Favorites) and to Sweden: author David Lagercrantz online from ARD Studio Stockholm and talks about his exciting new movie.
And to Daniel's delight, this time there's a literary dessert: Kalter Hund, a kids' birthday meal, and also a recipe from Sommerby's new book that Katharina couldn't resist. So it was well reinforced for the test – which this time passed with flying colors.
Presentation books
Kirsten Boy: "Longing for Sommerby. That's what family tastes like" (Oetinger)
Maxim Liu: "The Hero from the Friedrichstrasse Station" (Kiepenheuer & Witsch)
Miranda Cole Heller: "Paper Palace", from English by Susan Hubble (Ulstein)
Annika Busing: "Northern Town" (Steidl)
David Lagerrantz: "Man of Shadows", from Swedish by Susan Dahlmann (Heine).
Thomas Glavenick: "The Great Miracle" (dtv)
Siegfried Lenz: "So the tender was soliken" (S Fisher)
Bookstore:
Astrid Dehi / Achim Engstler: "Rising Water" (dtv, enriched)
Monica Betz: "Summer Sisters" (Kiepenheuer & Witsch)
Recipe
Ingredients:
340 grams Corn beef
750g cooking flour Potato
3 Option
pickled beetroot to taste
Option– And beetroot liquid
salt And Pepper
4 egg
4 sour herring (eg Bismarck and Rollmops)
to equip: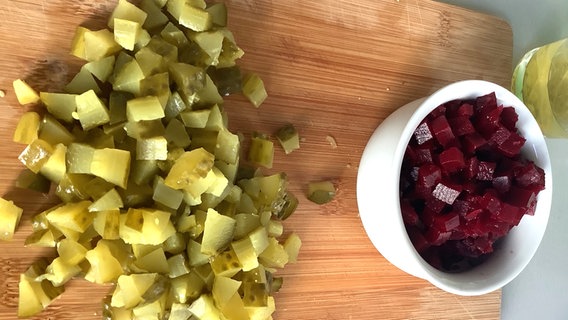 Cubes of beetroot and cucumber go with the recipe.
Peel the potatoes and cook them. Cut the onion into cubes and fry in fat, add finely chopped meat and fry with the lid on for about three minutes. Add cucumber cubes and some cucumber liquid. Add the beetroot cubes, perhaps using a little liquid here as well. Season with salt and pepper. Simmer for ten minutes. Mash the cooked potatoes well and add to the roasted beef mixture. Taste again. Served with fried eggs and herring.
Feedback, suggestions, ideas? bring it!
Anyone wishing to provide feedback or name their favorite books can reach the three hosts by email at eatreadsleep@ndr.de. The podcast is published every 14 days on Fridays at 6am and operates as a joint project under the NDR brand – you can listen and subscribe here – or at ARD Audio Library.